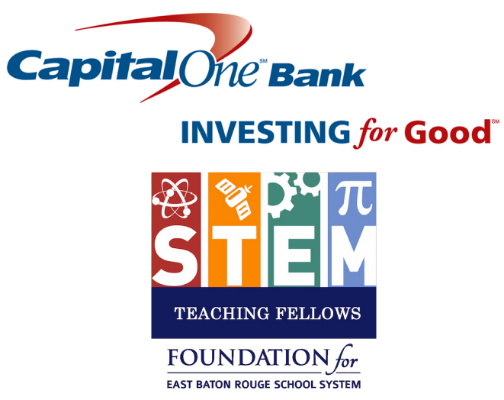 Taking applications now for the 2019-20 STEM Teaching Fellows Cohort 3.  APPLY HERE.
STEM Teaching Fellows:  A group of practitioners coming together to solve a common problem or collaborate on a common interest in STEM education.
The STEM Fellows program was launched in the fall of 2017 by the Foundation with funding from Capital One - Investing for Good grant.  The purpose of the initiative is to establish and support a cadre of "STEM Teaching Fellows" who, armed with content knowledge, innovative teaching strategies, and an entrepreneurial spirit, can support their colleagues and transform EBRPSS schools into institutions of innovative STEM teaching and learning.
STEM Teacher Leader Model:  The STEM Teaching Fellows program will feature year-round professional development and collaborative resource-building and sharing activities. Continuity of these efforts will be ensured through participation in active learning communities and the sharing of promising practices via district-wide professional development venues and at practice-sharing events sponsored by GEN READY - A Capital Area STEM Education Coalition.
Overview:
The project seeks a year-long commitment from PK-12 teachers who are interested in:
Building an understanding and knowledge of student engagement, career building, and STEM learning resources available
Supporting and cultivating strategies to engage underrepresented, underserved youth in STEM
Identifying, researching, and sharing promising STEM practices with colleagues
Developing STEM instructional kits, lessons, and tools to be shared across the district and via the STEM Teaching Lab to increase awareness and participation in STEM
Building your leadership capacity with skills, attitudes and habits of mind to act as agents of change
Participating in the STEM Learning Network and teams to support sustained system-wide engagement through policy, advocacy, and decision making
Benefits:   Participants will receive:
$1,000 Grant award
Recognition as a FEBRSS STEM Teaching Fellow in media and at various events
Regular professional development and leadership opportunities
Requirements/Responsibilities:
Current full-time EBRPSS PK-12 educator
Attendance and participation in STEM Teaching Lab activities
Participation in monthly STEM Teacher Leader PD sessions (Total of six sessions + Graduation in April at the 2019 FEBRSS Gala)
Provide at least one professional development workshop along with resources and video/slide show illustrating your STEM work on your campus (school, district, or community level)
Sign a Memorandum of Agreement detailing roles and responsibilities of the project
Selected photos of STEM Fellows honorees attending the 2018 Gala. Click here.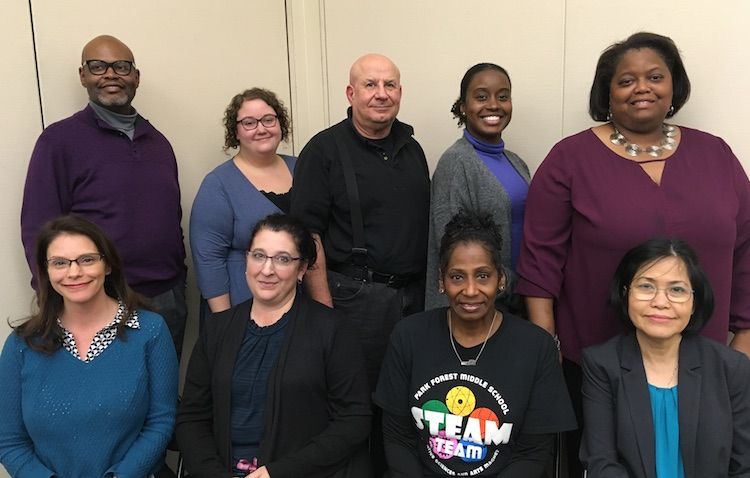 2018-19 STEM Teaching Fellows
Jessica Anderson, Capitol Elementary

Alison Baker, Sherwood Middle Magnet

Lia Cao, Baton Rouge Academic Magnet High

Mabrouk Faradj, McKinley Magnet High

Jennifer Gaines, Riveroaks Elementary

Carlita Gordon, White Hills Elementary

Bria Jarrell, Scotlandville Pre-Engineering Middle Magnet

Rebecca Holloway, Park Forest Middle

Melisha Jenkins, Capitol Elementary

Nicole Landry, (Southeast Middle)

Frank Sparks, (Park Forest Middle)

Regina Thomas, (Brownfields Elementary)

2017-18 STEM Teaching Fellows
Ingrid Cruz

Scotlandville Pre-Engineering Magnet Academy

Baton Rouge Center for the Visual and Performing Arts

Jefferson Terrance Elementary

Mayfair Laboratory School

Magnolia Woods Elementary