Knock, Knock's Making and Tinkering with STEM Workshop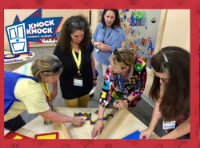 Embrace a mindset for making and tinkering through engaging, playful experiences led by nationally recognized educator and author Cate Heroman and Knock Knock Children's Museum's Maker Shop Specialist Alexandra Pearson.
June 12 or June 13, 8:30 a.m. to 3:30 p.m. @ The East Baton Rouge Parish School System's Professional Development Center 
Together we'll investigate how tinkering and making experiences support fundamental STEM thinking and learning for young children. After this introduction to the fundamentals of tinkering, we'll dive into NAEYC's book, Making and Tinkering With STEM: Solving Design Challenges With Young Children. You'll learn how tinkering, making, and engineering are related and how each has an important role in the early childhood setting.
During this highly interactive full-day workshop, you will:
Examine three aspect of maker education (tinkering, making, and engineering) and explore what these look like in early childhood settings (preschool through 3rd grade).
Experience tinkering activities as a learner and then reflect as an educator of young children.
Engage in first-hand exploration of design challenges linked to problems characters face in children's picture books.
Learn strategies for establishing an environment that inspires children to think creatively, take risks, and solve problems.