EBRPSS STEM Teaching Fellows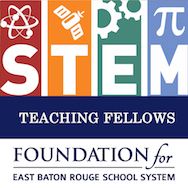 STEM Teaching Fellows spend a year examining conditions, practices and outcomes that education and research experts agree help indicate how well a school is performing in the delivery of STEM education.  In this third annual grant from Capital One, EBR teachers will meet six times to study best practices in STEM education, ranging from readiness for STEM, building a high-impact STEM integrated campus to integrating project - based learning and more.  Educators will receive a $1,000 award to be used towards professional learning, equipment and/or materials for their classrooms and be expected to share artifacts from their year of study.
REGISTER NOW TO BE A PART OF THE 2019-20 STEM TEACHING FELLOWS Cohort 3 - DUE MAY 31st.