Robotics and Sensors - Southern University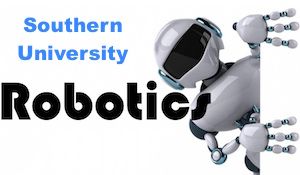 DATE:  June 3 through June 14, 2019, Monday - Friday, 9:00 a.m. to 3:30 p.m.
Who: High School students from the Baton Rouge and surrounding areas.
Sponsor:  Computer Science Department, Southern University (Southern University Campus - Dept of Computer Science -Henry Thurman Hall.
Robotics engages students in complex, strategic problem-solving and higher-order thinking with a set of skills that is a high priority for 21st-century education. What is more, this kind of problem-solving can be introduced in a gradual, self-motivated way, so high school students can experience satisfying achievements right away and can quickly move on to new challenges in a continuous progression toward greater levels of sophistication.