Engineer IT: An Environmental Engineering Challenge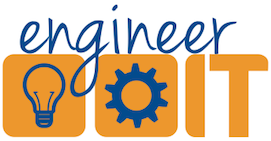 Fourth annual event where 8th graders will tackle an environmental engineering challenge. Facilitated by mentors, teams use technology and the engineering design process to solve a local problem. This year's theme is agricultural engineering.
In this super fun challenge - Friday, November 2nd, teams of students will be introduced to a local environmental issue and will use the engineering design process and technologies to develop and communicate a solution with the help of environmental engineer professionals. Great opportunity to introduce eighth grade students to engineering design process, the important work done by engineers and scientists, and a range of STEM workplace skills.
Reserve space for your 8th grade team NOW. Transportation is up to you. Deadline for reserving a team space is OCTOBER 12th. You may bring up to 5 students. Once you have registered, we will send additional information to get each student registered.