Boost Engineering Habits at Home Webinar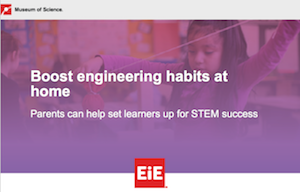 As you know, developing 21st century skills like critical thinking, teamwork, and communication is critical to children's success in school and life. That's why it's important to start early and develop these skills as young as possible.
21st century skill development isn't confined to the classroom: engineering and creative problem solving can (and should!) happen anywhere, any time. Join EiE and Bright Horizons for a free webinar that explores how parents can engineer at home with their young learners. Register today to learn how you can spark a lifelong love of STEM.