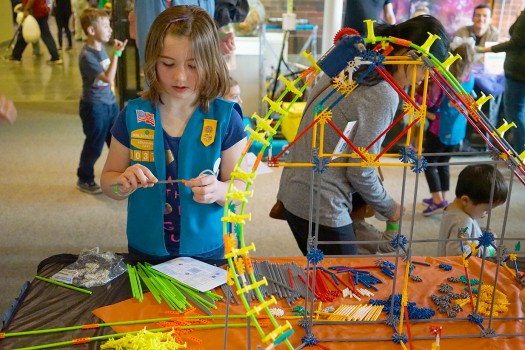 Join LASM for one of our most popular events of the year! This fun-filled festival features as many as 30 interactive stations showcasing a wide array of engineering and design specialties for all ages.
Hands-on activities and demonstrations include a hurricane simulation activity used to learn how resilient buildings are designed, a stream table used by civil engineers to understand river flow and the effects of weathering and erosion caused by water, robotics activities and demonstrations, racing and flying demonstrations by the LSU Mechanical Engineering Department Aero Design and Formula SAE competition teams, medical physics, nano science, bridge building, 3D printing, and more!
Sponsored by the Albemarle Foundation, Arkel Constructors, BASF, and ExxonMobil. In partnership with LSU College of Engineering, Arkel Constructors, The LSU Cain Center for STEM Literacy, The LSU Mechanical Engineering Aero Design Team, The American Society of Civil Engineers, Chevron Leadership Academy, LSU Dept. of Chemical Engineering, LSU College of Engineering Peer Mentors, and the East Baton Rouge Parish Library System Technology Department.