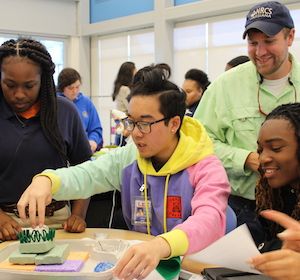 Today is National STEM Day (and National Day of Design) - a day reserved to encourage kids and individuals of all ages to identify their passions in the world of Science, Technology, Engineering, Art and Math. With occupations related to STEM expected to grow 70 percent faster than other occupations, educators and community volunteers are encouraging students take an interest in these subjects at any age. 
Here is a list of ways you or or organization can observe National STEM Day today or throughout the month.  We request that you share via Twitter, Facebook, or GENREADYLA.org site all STEM-related photos, videos, quotes and stories you wish to share or try an activity yourself.  We'll make sure your contribution is added.
Teachers, participate in a STEM challenge: Our EngineerIT Project (Agreaux-Ecology - Can you dig IT?) or others in our Educator Resources Project Bank.
Tweet (@GenReadyLA) or spread news of a STEM activity you have completed or have planned. 
Become a partner and pledge to get involved in the GEN READY LA movement.