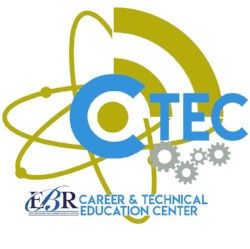 Tuesday, September 18th, EBR Career & Technical Education Center (CTEC) and local business and industry partnered for a successful Career and Technology Day. The event served 10th grade students from the following high schools: Broadmoor, Tara, Scotlandville, Belaire, Glen Oaks, McKinley, Woodlawn, Istrouma & CTEC. One parent even made the trip independently to bring his two children to the event.
Local business owners and guest speakers came out in full force to support CTEC. This school and its instructors are dedicated to providing students with applicable knowledge and certifications for fields such as CNA, EMT, HVAC and IT. Their goal?  To make sure students are prepared for high-wage high-demand fields &/or earn dual enrolled courses leading to an associates in tech fields. Not only are students certified upon graduation, they are in prime position for employment immediately upon graduating from CTEC!
The school is currently in the process of funneling students from local high schools in Baton Rouge, LA for these programs. Instructors are very passionate about their students' success; they were very hands on and vocal about supporting their students and prospective students. One local student from Scotlandville was even interviewed during the CTEC Expo. 
Executive director, Summer Dan, seamlessly wove the 8 visiting schools into the dynamic schedule. Pioneering industrial leaders such as IT Inspired, Franciscan Ministries of Our Lady Health System, All Star Automotive Group, Siemens, Cisco, Star Services Inc, Global Geospatial Institute, Turner Industries and JM Test Systems all showed up with the intent to make sure our students have a chance to explore different career choices. 
Owner and CEO IT Inspired, Rob Wise, and Ms. Fran Harvey from GISP were very enthusiastic about getting the kids involved with their companies. Mr. Wise declared how much he enjoyed the day and would like to come back for another CTEC event in the future. Program Director of Franciscan University's School of Nursing, Ms. Latonya Dorsey, kept the students attention by relaying her own story as a student and how it's important to never lose sight of your goals. Mr. Jay Weber, along with his fellow employees from Siemens brought a semi-trailed, in which 45 students were able to tour at once. One representative from Siemens gave a very spirited speech to the students about the importance of learning and how it's an ongoing process.
JM Test Systems and All Star Automotive Group speakers went so far as to bring in live equipment to give the kids actual demonstrations. With JM Test Systems, students were shown calibration equipment and how it applied to real world challenges. All Star Automotive may have won the day, however, by bringing two of their cars; their sessions quickly became 'stand-room-only' events. The Foundation for East Baton Rouge School System provided support for the event through the volunteered time of their AmeriCorps VISTA's Jasmine Walker, Jennifer Watkins and Emma Osaya. They were also on hand to help students find their way to classes, observe sessions and reach out to business partners in order to help promote GenReady, A capital area STEM collaborative out to transform the way local communities expand access to STEM opportunities for all.