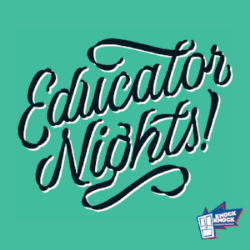 This year, Knock Knock invites PreK-3 grade teachers and administrators to the museum for a free night of exploration with a little making and tinkering. Participating teachers and administrators will get an overview of Knock Knock Children's Museum plus participate in activities in the Art Garden and Knock Knock Maker Shop. Join Knock Knock for a FREE night of learning during one of the dates below:
Sept. 20th 4:30p-6:30p
Oct. 11th 4:30p-6:30p  
Nov. 29th 4:30p-6:30p 

*Participation limited to the first 75 registered each night. Registration required and snack provided.
Register Here: http://bit.ly/2NBTErk