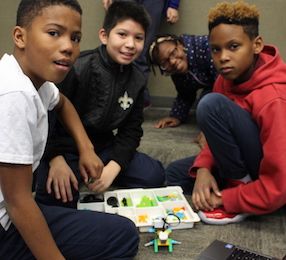 As demonstrated at the Foundation-sponsored "Tech the Halls" elementary robotics challenge held in January, it's never to early to discover a passion for STEM and programming.
Over ninety EBRPSS elementary school students participated in the first annual elementary robotics competition at at the Goodwood Branch of the East Baton Rouge Parish Library.
The goal of the the robotics pilot program was to provide novice elementary educators with a support network for learning how to teach real-world problem solving and valuable STEM skills through LEGO robotics. At the end of the six-month pilot, an Expo was held in January where student teams across the city who worked on the "community-in-need" design challenge showcased their solutions and constructed "on-the-spot" a motorized model of their solution. Throughout the process, teams learned about the power of collaboration, wonders of technology, and core values which include respect, sharing and critical thinking. Not intended as a competition, teams shared their innovative solutions to community issues, such as hunger, poverty, homelessness, and disaster relief and built a machine to perform a related task that alleviated the problem. In conjunction with the Expo, students and other participants donated a food or toy item to be donated to a local shelter.
Comments from students:
"It was fun to do and I would like to do it again because I learned how to save the city with creations we made with robots."
"I would like to learn to be a game developer when i get older so i hope this program will help me learn how to do that."
"I learned what I will do when I grow up."
As a result of the program - over 78% of students surveyed reported that they would be VERY INTERESTED in pursuing a career in STEM - most of those students reporting because of the designs they worked on or the technology involved in this project.